4,3") Touch-screen HMI WinCE Food and pharmaceutical applications CFR21 Parte 11 Compliance TD 430
This series of WinCe HMI is featuring a soft-PLC (standard IEC 6-1131), which has been a signature also of previous HMI and allows to manage external peripheral devices via RS485, Ethernet, USB or CAN interface. The expansion module ETD884 anables also stand-alone applications where supervision, logics and analogue/digital I/O are combined into a single device.
Suite runtime makes available the integrated programming of soft PLC and graphics. The soft PLC supports multi-tasks with execution up to 10 ms and includes drivers for Modbus RTU Master/Slave, Modbus TCP/IP Master/Slave and CAN Open Master. Thanks to 5 different programming languages according to standard IEC 61131-3 (SFC -Sequential Function Chart, FBD -Function Block Diagram, LD -Ladder Diagram, ST -Structured Text, IL -Instruction List) and to the object-oriented programming for the graphics, the development of projects is made easier and more user-friendly.
This same development environment may be used to program also the range of Panel-PC (TD750/TD850/TD900), ensuring portability of the applications among different platforms, aiming to maximum flexibility and shortening of programming times.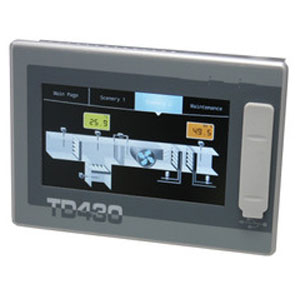 Ordering codes
TD430-AD: HMi 4,3" with soft-plc + 1 serial RS485 + 1 CANopen
ETD884-AD: Expansion 2 An. 16bit/1msec (loading cells) + 8 Inp. + 8 Statics + 2 outputs Volt/mA
Main features
Box: 140x100 (front panel ) x 38;
Power supply: 12...24Vac/Vdc ±15% 50/60 Hz
Display: LCD TFT touch screen 4.3" , 480x272 pixel 16 milion colors; (lifetime typ. 50,000 hours @25°C)
Operating conditions: Temperature 0-45 °C, humidity 35..95 uR%
Material: Front panel: aluminium with polycarbonate coverage; Box: chromed steel
Sealing: IP54 (Front panel) , IP20 (Box and Terminal bloks)
Expansion Module : ETD884-AD Expansion: 2 load cell inp. with integrated power supply for the cell, 8 digital inputs, 2 Encoder inp. 24bit PNP/TTL, 8 digital outputs, 2 analogue outputs V/mA, 4 analogue inp. NTC/PTC/V/mA
Hardware features and communication ports
Processor: ARM V4i 200 MHz
Serial communication: RS485 galvanic isolated
Field bus: CAN galvanic isolated
USB: 1 USB for programming on frontal + 1 USB 2.0 on back side
Ethernet: 1 Ethernet 10/100 Base-T on RJ45 connector
Memory card: SD/MMC Reader
Software features
Operating system: WinCE 6.0 R3
Programming of logics: LogicLab ( Suite), choice of languages according to IEC 61131-3
Programming of graphic interface: PageLab ( Suite)
Communication protocols: ModbusRTU Master/Slave, Modbus TCP/IP Master/Slave, CAN Open Master, Free-port mode for modems or proprietary devices
Clock: Real-Time clock, Back-up battery