PLC 20 Inp / 12 Out
PL 250
Compact PLC for applications requiring flexibility and cascade control with low/medium number of I/O. All resources are available in a single device, not involving additional boards: CPU, power supply unit, digital I/O (with relay outputs) , analogue I/O not requiring external signal conditioners. Serial communication via RS485 multi-point and ModbusRTU protocl up to 57000 baud.
Development environment PLprog is relying on Ladder programming with function blocks (contacts/coils) integrating countings, timings, PID control algorithms, motion control, mathematical and logical functions 16bit, check on words bit.
Wiring is simplified by extractable terminal blocks. The power supply 12...24 Vac/Vdc enables installation not only on control panels/cabinets but also on trucks/tractors.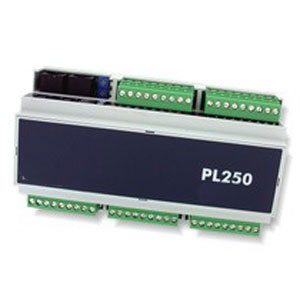 Ordering codes
PL250-10AD : PLC with 4 An. Inp. (10 bit) + 12 relays 5A
PL250-11AD : PLC with 4 An. Inp. (16 bit for Tc/RTD) + 12 relays 5A
Main features
Box : Standard DIN43880 160 x 90 x 58 (H) mm with DIN RAIL mounting fitting EN50022
Power supply : 12...24Vac/Vdc ±15% 50/60 Hz
Operating conditions : Temperature 0-45 °C, humidity 35..95 uR%
Inputs
Analogue (10bit) : 4 inp. 0...10Volt or 2 inp. 0...20mA (code -10AD)
Analogue (16bit) : 4 selectable for TC, K, J, S, R, T, E, PT100, Ni100, 0/4..20 mA, 0/1..10 V for more details see technical documentation (code -11AD)
Inputs for Encoders : 2 bidirectional encoders (overlapped to 4 inputs PNP) 15 KHz simultaneously / 30KHz single
Auxiliary power supply : Terminal for Encoder power supply 5/12Volt, Terminal for Potentiometer power supply 10,0 Volt
Trimmer : 2 for regulations and process variables
Outputs
Digital : 12 relay outputs 5A - resistive charge
Analogue : 2 0...10Volt , 8 Bit (overlapped to 2 inputs)
Programming port : 1 serial RS232 on Plug
Communication port : 1 serial RS485 on Plug or on extraible terminal ( max. 57600 Baud)
Software features
Programming : Software PLprog, Ladder diagrams; 128 markers (logic relays), 64 bistables, 96 timers 16 bit, 32 up-down counters, mathematical and logic functions, range - rescale, contact bits, 2 timed interrupt (min. 1 ms)
Scanning cycle : min. 2 ms
Communication protocols : Modbus RTU master/slave; Free-Port for Modem or proprietary devices
Memory : 64Kbyte Flash for programming, non-volatile Ram memory (6months), 1000 words EEprom, optional MMC 13000 words
Clock : Real-Time clock, Back-up battery
Control algorithms : P, PI, PID, PD
| | | |
| --- | --- | --- |
| Download PDF | | |